Attendance Line: (703)228-7672
ASFS PTA Calendar (TBA)
The ASFS PTA has just joined the Amazon Affiliates Program. What that means is that anyone who shops for Amazon products by linking to Amazon through our special link will earn money for our school. Yep, that's right, if you use our link to get to Amazon, a portion of what you spend goes to ASFS. The link can be used by anyone (friends, family, neighbors, coworkers) so please spread the word. If you Facebook or tweet . . . send it out to your followers. One thing, if you are a frequent shopper and have your account information saved so you are automatically logged in when you go to Amazon, be sure to log out of your Amazon account, use our link, then log back in and re-bookmark Amazon. This will ensure you are shopping through our link from now on. So, from now on, please enter Amazon using this link: http://www.amazon.com/?_encoding=UTF8&tag=ap061-20.
The ASFS Student Council Association is participating in the FundingFactory® Recycling Program!
This fundraiser is FREE and simple because there's nothing to sell, no paperwork to fill out and no deadline. The program runs year-round, accumulating constant income for our efforts. But we won't get very far without your support. Please donate your empty printer cartridges and used cell phones to our SCA and we'll take it from there! We will recycle the cartridges and cell phones through FundingFactory to earn new technology, recess equipment, or even cash for our school.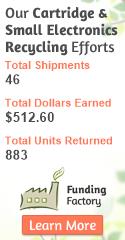 Talking about Violence with Children
e
This Web page contains links to one or more Web sites that are outside of the Arlington Public Schools network. APS does not control the content or relevancy of these links.